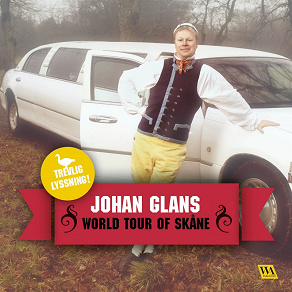 Isbn:
978-91-7523-466-3
Publisher:
Word Audio Publishing
Category:
Humour
Accessible since:
October 2015
Narrator:
Johan Glans
Length: 10 minutes
---
World tour of Skåne
World tour of Skåne är en standup-show som skämtar friskt om bl. a. hur det är att bo hemma hos mamma och pappa som vuxen. Hur det var att vara skolpolis i småskolan, hur det är att ha blivit pappa och hur det kan gå när man drar en lögn när man har dubbelbokat sig på ett gig.
 Johan Glans är komikern med den sparsmakade mimiken som vi sett i shower som Parlamentet, Kvarteret Skatan m.fl. Han har dessutom vunnit priser som Årets komiker, Årets skåning och är sedan 2012 hedersmedborgare i Eslöv.
 Den här showen spelades in 2008 under Johans turné.
Listen to sample
---