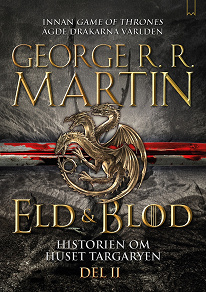 Isbn:
978-91-8885-979-2
Publisher:
Bookmark Förlag
Category:
Fantasy & Sci-Fi
Accessible since:
March 2019
---
Eld & Blod: Historien om huset Targaryen (Del II)
DRAKARNAS DÖD
I ett delat Västeros ställs Aegon II och hans syster Rhaenyra mot varandra i en kamp om järntronen. Det blodiga inbördeskriget kommer att bli känt som Drakarnas dans, och ställer drakar mot drakar i en maktstrid som förändrar världen för all framtid. 
På öppna slagfält och i palatsets skuggor lades vägen som ledde fram till Game of Thrones. Med svärd och svek försvarade Targaryen sin plats på tronen.
Men till vilket pris?
I andra delen av Eld & blodfortsätter historien om huset Targaryen, känd från HBO:s succéserie Game of Thrones. Med sin fantastiska detaljrikedom levandegör George R.R. Martin den mest mytomspunna släkten i Västeros, tillsammans med vackra illustrationer av Doug Wheatley.
---