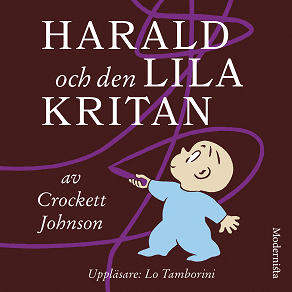 Isbn:
978-91-7893-564-2
Publisher:
Modernista
Category:
3-6 years
Children's books
Accessible since:
April 2020
Narrator:
Lo Tamborini
Length: 5 minutes
---
Harald och den lila kritan
En av de stora barnboksklassikerna - flera gånger utsedd till en av de bästa barnböckerna genom tiderna!

En kväll bestämmer sig Harald för att gå ut och gå i månskenet. Men det finns ingen måne och ingen väg att gå på, så Harald ritar en måne och en väg med sin stora, lila krita. Det blir början på ett magiskt, förunderligt äventyr. Harald går genom en skog, möter en farlig drake, färdas med båt över öppet hav. Till sist, efter en rad spännande upplevelser, är han trött och det är dags att ta sig hem igen. Men hur ska han kunna hitta tillbaka till sitt fönster?
Harald och den lila kritan kom ut första gången 1955 och har sedan dess aldrig gått ur tryck! Nu finns den första gången som ljudbok på svenska.

CROCKETT JOHNSON var en pseudonym för David Johnson Leisk [1906–1985], en amerikansk tidningstecknare och barnboksförfattare född i Queens, New York. Harald och den lila kritan [Harold and the Purple Crayon] är hans mest kända och älskade barnbok.
Listen to sample
---