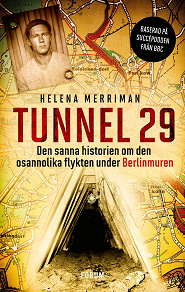 Tunnel 29 : den sanna historien om den osannolika flykten under Berlinmuren
Spänning, spioner, kärlek och svek i en sann berättelse från det kalla krigets delade Berlin.
I september 1961 riskerar den 22-åriga studenten Joachim Rudolph allt för att fly från den brutala diktaturens Östberlin. Några månader senare plockar han upp en spade på västsidan och börjar gräva en tunnel tillbaka för att hjälpa så många han kan till friheten. Det här är den osannolika berättelsen om Tunnel 29, de modiga människorna som byggde den, spionen som förrådde dem och det amerikanska tv-bolaget som finansierade räddningsaktionen.
"Tunnel 29" är thrillerartad dokumentär läsning, nutidshistoria med genklang i samtiden och de murar som byggs runtom i världen idag. Baserad på succépodden från BBC Radio med över 5 miljoner nedladdningar. Utsedd till Book of the year av The Economist 2021.
"Verkligheten överträffar allt! ...fruktansvärt spännande!" Go'kväll
"...oupphörligt fängslande...ett rörande och inspirerande bevis på civilkurage..." Alingsås Tidning
"Oj vilken bladvändare den brittiska journalisten Helena Merriman har skrivit. Tunnel 29 måste vara en av de mest spännande böcker jag har läst på många år." Socialpolitik
"...en fascinerande berättelse - - - Helena Merriman har skrivit en högintressant och mycket genomarbetad dokumentär historisk bok med thrillerkänsla. Om en tid inte så långt från oss – och som fortfarande kastar sina skuggor. Tunnel 29 blir en välgjord, gripande och tankeväckande true crime-story, med spionageinslag, Berlinmuren och kalla kriget som ingredienser." BTJ
---