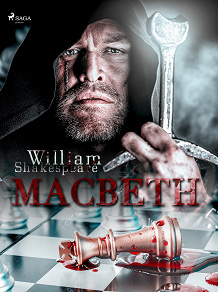 Isbn:
978-87-2660-718-5
Publisher:
Saga Egmont
Category:
Crime & Mystery
Plays
Accessible since:
July 2021
---
Macbeth
Power and despair are at their uppermost suspense between witchcraft, bloody severed heads and darkness loom over this magnificent play by William Shakespeare. Set in medieval Scotland, we encounter riddles, prophecies and bloody murders in this historical fiction play.

Returning home from battle, Macbeth rises in the ranks of Scottish noblemen, murder after murder. Is it worth it getting the final crown at the price of a soul? Manslaughter, lies and betrayal drives Macbeth's desire for ultimate control. Furthermore, Lady Macbeth stands as one of Shakespeare's strongest female characters, forceful and aggressive she is blinded by ambition. Will she realise the consequences of her actions before it is too late?

'Macbeth' is known to be filled with action and mystery, perfect for fans of Kate Rhodes and Richard Osman.

William Shakespeare (1564-1616) is widely considered the world's greatest dramatist and is often referred to as England's national poet or the Bard. Most famous for his timeless plays, he also wrote a multitude of poems and sonnets. Shakespeare was the blockbuster writer of his day, his many works concerning universal themes of life, love, death, revenge, grief, jealousy, murder, magic, and mystery. Among some of his most famous are 'Macbeth', 'Romeo and Juliet', and 'Hamlet', but the list is long, and many continue to be studied and performed, both their original form and modern adaptations.
---